Sometimes working in the health care industry can be exciting, sometimes tiring, and sometimes just plain weird. We've all had those days when we wonder whether we're nurses or ringmasters in a three-ring circus. To ring in the New Year and celebrate the old, ASRN brings you some of the most unusual medical stories of 2007.
Tummy Ache? Eat a Frog.
A man in southeast China recently revealed that he has been eating live tree frogs and other creatures. He believes that this remedy has cured him of chronic stomach pains and coughing that plagued him in early adulthood. Over the past 40 years Jiang Musheng has been supplementing his diet with live mice, baby rats and green frogs. Yum!
(Eating Live Frogs, Rats "Cures Tummy Upsets". Reuters.com. June 5, 2007)
Bleeding Green
What would you think if you started an IV on your patient and noticed that the back-flash of blood was green? Yes, the Canadian surgeons whose patient actually did have dark greenish-black blood were a little surprised, too.
It seems this particular patient had been using large amounts of sumatriptan: 200 mg a day when the normal dose is 25-100mg every 24 hours. What resulted was a rare condition called "sulfhaemoglobinaemia". In simple terms this means that the man's hemoglobin had attracted sulphur molecules from the medication which were now hitching a ride and changing the visual appearance of the blood cells.
(Patient Bleeds Dark Green Blood. BBC News. June 8, 2007.)
Death by Sports Cream
After a two month investigation, the New York City medical examiner has ruled that 17-year-old Arielle Newman died in the summer of 2007 from methyl salicylate poisoning. Methyl salicylate is an anti-inflammatory ingredient present in many sports creams (i.e. Bengay, Icy Hot).
The medical examiner has been quoted as saying: "She either lathered herself with it, or used way too much, or she used a normal amount and an abnormal percentage was absorbed into her body."

(The Associated Press. Muscle-Pain Reliever Is Blamed for Staten Island Runner's Death. New York Times. June 10, 2007.)
Flies on the Brain
Aaron Dallas was told he had shingles on his head, but nothing seemed to fix the problem until the doctor investigated further and found fly larvae living in a 2mm by 3mm wide pit under the patient's skin. It is believed he carried the little parasites home from a recent trip Central America.
Here's Aaron's take on the situation. "I'd put my hand back there and feel them moving. I thought it was blood coursing through my head. I could hear them. I actually thought I was going crazy."
(Sharma, N. Colorado Man Shocked To Discover His Head Infested with Fly Larvae. All Headline News. July 18, 2007.)
Got a Pencil?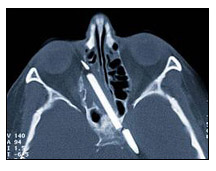 Until recently German woman, Margaret Wegner, has carried the same pencil with her everywhere for the last 55 years. Why? It was embedded in her brain and skull cavity.
At the age of four she fell while carrying that pencil. It pierced her cheek and skull, sank beneath the skin and became lodged in her brain.
At the time of the injury, doctors were stumped: there simply wasn't a safe way to remove the offending object. As a result, the pencil had to stay; but, she lost most of her sense of smell. She also suffered from chronic headache and nosebleeds.
Finally, in the summer of 2007 a Berlin doctor was able to remove most of the three-inch pencil during a two-hour surgery.
(BBC News. Pencil removed from German's head. August 6, 2207.)
Getting Drunk on Hand-Sanitizer

Nurses, guard your hand-sanitizer. In the past year there have been at least 3 reported cases of hand-sanitizer chugging.
A patient in a Cincinnati, Ohio emergency room.
An inmate at a Baltimore, Maryland prison.
A repeating offender at Tufts-New England Medical Center. He's been caught twice drinking the Cal Stat antiseptic mounted in their emergency room walls.

The first time caused kidney and respiratory failure.

Two months after his recovery he was caught again.
(Rowe. A. The Downside of Getting Drunk on Hand Sanitizer. Wired.com. October 23, 2007.)
Me First
Lesson learned: never mix giving birth to twins with Daylight Saving Time. Here's what happened.
"Baby A" was born at 1:32 a.m.
"Baby B" arrived on the scene 34 minutes later, but because of that nifty little clock reset, her birth time was recorded as 1:06 a.m.
So, who's older?
(Lamb, A. Daylight-Saving Causes Twin Arrival Pickle. WRAL.com. November 6, 2007.)
What a Hairball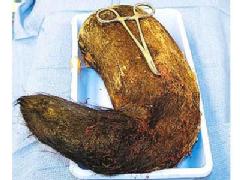 After five months of stomach pain, abdominal distention, postprandial emesis, and a 40 pound weight loss an 18-year-old girl found relief after surgery to remove the 10 pound hair ball that was almost completely blocking her stomach. The patient reported that trichophagia (eating one's own hair) had been a habit for many years.
(Levy, R. and Komanduri, S. Trichobezoar. The New England Journal of Medicine. 357:e23. November 22, 2007.)
Copyright 2008- American Society of Registered Nurses (ASRN.ORG)-All Rights Reserved