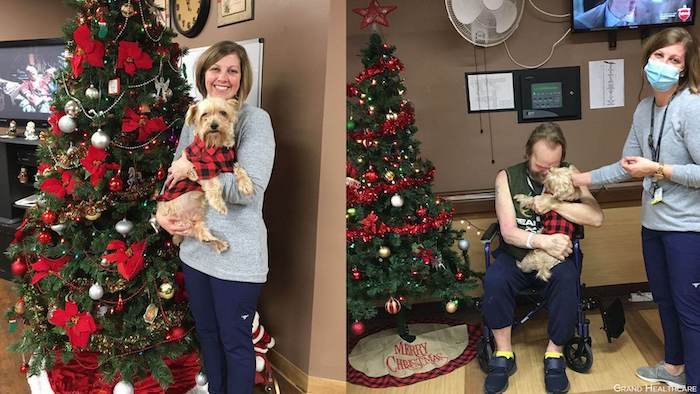 By Jennifer Henderson
When her patient's canine companion ended up in an animal shelter, Jennifer Smith reunited them.
Nurses often do everything they can to make their patients as comfortable as possible during difficult times. But Jennifer Smith, RN, of the Grand Rehabilitation and Nursing facility in Rome, New York, took that one step further.
Smith received a frantic phone call at 7 a.m. from one of her patients on the Monday after Thanksgiving. Sixty-year-old John Burley's beloved dog Boomer had ended up in a local animal shelter after Burley fell ill with pneumonia and was hospitalized.
Smith had gotten to know Burley, who suffered a stroke about a year ago, over the preceding months as he lived on his own and attended the Grand's adult day healthcare program. And Smith had heard all about Burley's 18-pound, mixed-breed companion. Boomer was 12-years-old now, but Burley and Boomer had been inseparable since the canine was a pup.
So, when Smith heard John on the other end of the line that Monday, repeating, "'Boomer's in the pound! Boomer's in the pound!'" she instantly replied that she would take care of the dog.

"I couldn't bear the thought of him never seeing Boomer again," said Smith.
But there was one problem -- Burley didn't know which animal shelter had Boomer.
Immediately after getting off the phone with Burley, Smith began searching the internet for nearby animal shelters and made her way down the list. The next day she found herself standing inside of one that had been closed on Monday.
Remarkably, the woman at the front desk told Smith that the shelter definitely had Boomer.
There, in the back of the building, sat the dog Smith knew all about. But, Smith recalled, this was their first "meet-and-greet."
Boomer looked tiny in such a large kennel and compared with all the other big dogs, Smith said. Then, he came over and licked her hand, and Smith had to tell her own family -- including her 13-year-old Labrador -- that she was bringing home a new dog.
Smith adopted Boomer that Thursday, and even took the day off from work to get him acclimated.

"It was just a success," Smith said. "He really is the best dog."
On Friday, Smith began bringing Boomer to work with her so that he could visit with his best friend, Burley, who is now in rehabilitation. The companionship is perhaps even more important as Burley's family lives states away in Arkansas. And it doesn't hurt that Boomer is extremely well-behaved and trained.
Smith said that when she takes two steps, Boomer takes two steps. "It's amazing," she said.
Having Boomer nearby is beneficial for Burley's health, she added.
"It boosts his mood; I think it makes him more motivated to get better," Smith said. "What is so great about this is, it's a story that started out not so good, and it turned out to be something pretty spectacular."
So spectacular, in fact, that Boomer has even been a boon for other patients.
"Not only does John get to see him, but the residents in the nursing home also get to see him," Smith said. "When I walk down the wings with him, they all smile, and they all know his name, and they all pet him. John is just so proud."

When Boomer isn't making the rounds, he's often planted on Burley's lap.
"That's why I went into nursing," Smith said of her 12 years in the field. "I love helping people and taking care of people in any way that I can."
It's not just about giving medicine to patients to help them get better, she said.
"For John, that's the only thing I could do for him at that moment in time," Smith said of adopting Boomer.
Burley was so worried about his dog that he would have only focused on that and not on trying to get better, she said. "Taking that worry away from him means a lot," Smith said.
Smith added that she'll take care of Boomer for Burley as long as she needs to.
"We just take it one day at a time," Smith said. "And in the meantime, I'll just keep bringing Boomer to him."